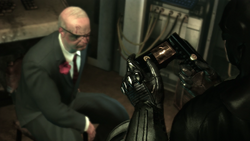 The Cryptographic Sequencer is a gadget employed by Batman. It is a device used to hack into security consoles and unlock access to secure areas.[1] After recovering an encryption key, the Sequencer enables its user to lock onto secure radio broadcasts which are subsequently stored, tracked, and played back by the Batcomputer.[2][3]
Batman: Arkham Origins is the only time the Cryptographic Sequencer has ever been referred to by name outside of in-game menus.
In Cold, Cold Heart, screens within the propellant lab and Fries' abandoned lab make use of the Sequencer's hacking screen from Batman: Arkham Asylum. In the case of Fries' lab, the screens are given an icy blue color.
References
Edit
Ad blocker interference detected!
Wikia is a free-to-use site that makes money from advertising. We have a modified experience for viewers using ad blockers

Wikia is not accessible if you've made further modifications. Remove the custom ad blocker rule(s) and the page will load as expected.